Ronja prototypes
Here you can read about the existing prototypes of Ronja and some details abou their testing operation.
Ronja 115 Loopipe prototype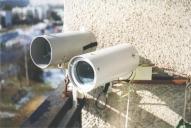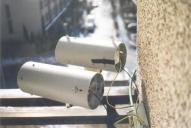 10th February 2000: Installation of the prototype to both ends of the line. Alignment in one direction.
11th February 2000: First few kilobytes of data flawlessly trasmitted in one direction
12th February 2000: We started PPP daemon. We were using ftp, telnet, ssh, ping and similar progressive techlologies. Everything worked fine.
13th February 2000: We downloaded a 64MB file through Ronja 115 Loopipe, gunzipped to 80MB and then playedto soundcard. Everything was fine. Then a snowstorm-rainstorm-windstorm came and the link thanks to missing shelters got a lot of water on the optics. It ceased to work. Then it slowly dried and the packet loss decreased and stopped at .77%. at 1024 bytes/packet (ping -c). I would say that it was due to bad focusing because the focusing had been done only by eye. ALso the alignment is not the best. I think that the shelters would solve the problems with the water.
20th February 2000: We repaired the alignment and installed the shelters.
26th February 2000: We removed the EMC problem, tested the packet loss and ping -c said 0.007% packet loss.
27th February 2000: We played a DOOM over Ronja. It went nicely smoothly.
2th March 2000: I made the photos of the prototype and placed them on the web.
12th March 2000: It was raining in a wild manner. We have not the shelters on our balcony because the drops hit the railing just under Ronja and cause watering of the optics. The packet loss increased up to unusability level. When the lenses were wiped off by a cloth, the packet loss considerably improved. Then everything dried up and it was OK again. Even only 2 packets were lost from 17,000 packets.
13th March 2000: Around a midnight, dew fell down. The lenses misted up and stopped lensing. About morning everything was just fine again.
10th June 2000: I determined that when a heavy rain falls, it doesn't cause the packets loss. Only when the direction of the rain changes so it starts to hit the railing under the prototype, it sprays on the lenses and causes the packet loss. Morale: don't install Ronja just above objects. Or place something soft on the obects so that the drops can't splinter around.
4th November 2000: I tried to use Sheron Flash liquid to treat the optics against fog, but the effect was zero or minimal. This liquid causes drops to roll more freely, but doesn't prevent condensation, althought the instructions say the spray increases window's performance during fog.
4th November 2000: Pavel Ruzicka aka Pavouk has built his own prototype without optics. It's based on the HSDL1001 receiver and features 7-fold transmitter diode. Works over 2 meters without optics without problems. It works maybe longer, the cord's length was a limitation. He also designed a PCB and drew an overall schematic.

4th November 2000: a hood made of transparent foil was added on the balcony side of the link in a manner to prevent the splashing drops to get onto the lens. The links works even in a rainy condition now. The shelters are big enough and suitably positioned as to prevent the drops from the glass.
2th December 2000: We connected our friend, at the far end of the Ronja 115 Loopipe prototype testing bench, to the Internet. His computer is vagabond.btnet.cz and if he switches it on, you may examine the Ronja links using ping or traceroute.
9th January 2001: After couple of months of observance and testing of the foils I finally determined they work and Ronja ignores any rain (even strong). The only thing that makes problem is occassional mist on the glass, but the suitable atmospheric conditions when mist condenses on the lenses accurs so scarcely that the several short dropouts are negligible. We had also several good-sized frosts here together with repeated meltdowns and re-freezes and no ice developped neither on the case nor on the lens. So that winter poses no problem for Ronja. I can say that mists are rarer during winter so winter is a bit better than autumn. The Ronja Loopipe proved to be highly practical for Internet connection.
17th January 2001: A temporary dropout has been noticed during heavier snow.
15th February 2001: Kvetoslav Kocek and Pavel Vesely have build another piece (without optics) and allegedly successfully tested at 2m, 9600bps. There are also pictures.
24th February 2001: Ronja 115 Loopipe works the best even at the highest ambient light possible (clear sky, sun in the sky, and snow covering the whole landscape). The light was very strong outside.
24th February 2001: Improved the IrDA SIR interface so that no EMI occurs anymore (from switching on desklamp etc. bits fell out :-) ), EMI blocker core from ferrite can be applicated onto the wire that is nearest the PC without creating digital data loop. Summary: overall EMC and EMI improvement. Created new version of interface schematic, in gschem.
19th March 2001: Watched link behaviour during a gale. People had problems staying erected on a sidewalk, and during peaks of wind's jerks, there were even packets dropouts (the holders aren't overdimensioned, so the heads can bend slightly, and is suffices to misalign the beams during the biggest jerks).
22th April: Trying to design new version of the Loopipe preamplifier due to three factors that render it's performance suboptimal. First it's the focus ring of the 90mm loupe which showed to be 3mm in diameter. The HSDL5420 has only 1.9mm of the diameter, however, SFH203F has got 5mm of diameter. SFH has also 20DEG of half angle, while HSDL5420 has got only 14DEG of half angle. The 90mm loupe with its 210mm of focal length requires 12DEG of half angle. And the original preamplifier had some ad-hoc characteristics that showed to reduce the effective signal voltage by 1.22 compared to optimal characteristics which I determined using a simulation program. The redesign will be basically the same, only resistors and capacitors will be changed.
22th April: Determined the best pass band for quadruple low pass and five-fold high pass. Pass band (-3dB): 29.5kHz to 210kHz. Pass attenuation (78.7kHz): 0.9dB. 50Hz attenuation: 235dB 10kHz attenuation: 18dB. 1kHz attenuation: 106dB. low pass RC: 3.3e-7, high pass RC: 1.4e-5.
13th May 2001: The new preamplifier and amplifier (Ronja 115 Loopipe Second Edition) have been implemented, installed and succesfully aimed. The signal is stronger due to bigger detector and better band passes. Packet loss is absolutely excellent.
Ronja 666 Lucifer Prototype (discontinued)
14th June 2000: I built the first prototype case and placed there the transmitter diodes. I aligned them together and well focused. The spot of the landing beam is visible for about 300 meters in area with streetlights in the night. It is not difficult to align the 6 diodes into a common direction. You only shine on some distant (50m) building and bend the thick wires holding the LED's.
14th June 2000: It looks like and Ethernet card could be used to control Ronja 666 Lucifer. James McKenzie told me that underclocking of some old NE1/2K models should work.
14th June 2000: 3 possibilities are for the optical lacquer inside the 666 receiver. A charcoal dust mixed with sugar with a bit of water, sooting an aluminium foil with a candle, or an ordinary spray paint in matt black. Spray paint will require leaving a silver strip around the focal plane or it burns through from the sun. The sugar also burns but is probably not destroyed and after some time, it stops burning. However, I don't know whether it doesn't generate fumes that condense on the optics.

The soot on a foil is absolutely the cheapest, the blackest and the most thermally durable (up to 800 deg C if my memory serves well), but can be easily wiped off by a finger or washed off by a drop of water.

14th June 2000 I bought a tube of Sillicon - acetate putty (transparent colour) which is suitable for sticking glass. It will be better than the old Chemoprene glue. It will also fill the gaps between the glass and the sides of the box so water could not go inside.
3rd September 2000: one more lacquer candidate thought out: a charcoal dust mixed with water glass. The sugar one tested and falls apart after burning. Also causes intense smell when burning.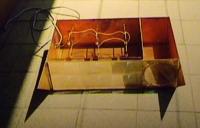 In this picture, you can see the sixfold fresnel lens (rectangular shape), one 90mm diameter glass lens and six diodes HPWT-DH00 soldered on six thick wires. Bending these wires causes alignment of the six beams into exactly one direction. The case is made of blank printed circuit board.
Ronja 10M Bithazard prototype
20th August 2000: I tried to transmit 88MHz through a laser pointer laser, but realized it simply doesn't work. So a FM receiver is unsuitable and low frequency carrier has to be used.
22th August 2000: I bought a cheap laser pointer and realized the spot is visible in the middle of the night for some good 400 meters. Also proved that a retroreflector is a very good aiming helper, when placed on the opposite side of the line.
2rd September 2000: when the spot is projected onto a white wall 700 meters distant, it is still faintly visible.
3rd September 2000: a retroreflector placed 500m away and illuminated with a laser pointer is very well visible in the night. Distance estimate using Derek Weston's Laserlink results says that Ronja 57 Sunprick should work with full bit rate (57 kbps) for about 6 kilometers (!).
4th November 2000: Some guy on laser@qth.net determined the bandwidth of a laser pointer to be approx. 175MHz.
8th December 2000: Bruno Schwander has tried out Ethernet fiber optics transceiver, where transmit diode was replaced with a visible laser diode and there were no optics added to the original fiber-optics interface. The link worked allegedly up to two meters, reliably. How far will it go with optics? I can't imagine. Look at the detailed description of the results.
12th December 2000: I got a RJ45 wire suitable for butchering and tampering with the Ethernet waveforms.
9th January 2001: I found a suitable receiver circuit at Imagineering Ezine. The circuit is by David A. Johnson. I am studying it in order to build it, try it up and possibly use it as a base for the Ronja 10M Bithazard Device.
29th January 2001: I junked up an old projector lens (objective) I bought about year earlier at some sale in a photo shop. It's a Meostigmat made by Meopta, lens speed 1.4, focal length 70mm, input diameter 52.5mm. I had to disassemble it first which was a bit tough as the input lens was stuck in the shaft. I had to heat the case with two (!) soldering irons so it went hot and I was able to shake the lens out. I cleaned it and tightly reassembled together again.
29th January 2001: I tested the Meostigmat out. It looks like The Ultimate Choice. I removed the aspheric miniature lens from my pointer and placed the bare diode in the focus of the Meostigmat. The result was marvellous. Resulting point in the distance was perfectly sharp. The beam was thick.

It shows a clear, sharp image. The image is slightly yellowish due to someting that looks like and antireflex layer. There are four lenses inside, two of them containing a gleu layer. So there are 8 glass-air transients and six pieces of glass actually. However there is not much a light loss. I account it to the antireflex. I intend to use it as a collimator for the laser diode in order to get a thick beam with good properties. As it's optimized as a projector lens the laser LED will go to the center of slide plane and the laser beam will point into the infinity. I think the projector lenses might be good stuff for laser beam expander.

7th February 2001: I thought out a concept of suitable holder which would have fancy fine screw setting of direction and both focuses. Each optical setup will consist of four thread sticks. On one end would be a board with cut-out hole, in which the lens would be glued. On the other side, a piece of square tin with small hole in the middle. There would be screwed up a tin case containing the receiver or transmitter and circuitry.

The objective would be holded by two U-profiles cut out a little bit in the middle in a V-shape to stay firmly on the cylidrical shape. They would be bolted together with additional two screw sticks. The focus would be obviosly easily settable.

On the screw sticks, between the front and rear, would be nutted the holder. Adjusting the nuts would shift the direction in two axes slightly. Rough shifting would be done in two additional screws of thick caliber. The holder would fit onto a wall with four holes with jacks in them. I think it will be stable enough to operate safely even in high wind.

1th April 2001: I got two Ethernet cards that both featured AUI connectors. I connected RX+ of one with TX+ of the second, RX- of the first with TX- of the second, and vice versa, and determined it works realiably and cleanly. Amd they run full duplex, although they are not full duplex cards! (AUI is always full duplex, the only thing where you can opt for full or half duplex is TP, and coax is always half duplex).

There is even +12V source at the AUI, and a data line impedance I like to see there. On top of it, thanks to full duplexity, there could be error correction codes in the future. Conclusion: AUI is 100% cool.

I also determined it is always possible to get AUI from a coax network card by an inexpensive and easy hardware hack: you simply cut the signal path between the chip and coax transceiver.

2th April: I was trying to build a 1MHz square wave oscillator for idle wave on the link. I've tried a two-transistor multivibrator, without success. I don't wonder: I've found a state in which the multivibrator stops and doesn't oscillte. So I made another design with 74HC132 (Schmitt trigger NAND), a 10k resistor and 100pF capacitor, and it works just fine.
---
Generated by a bash script. HTML written in vi. Graphics made with GIMP. Webmaster of the Twibright Labs website is Clock.